Experience best practices in basketball coaching by top-level international coaches from the USA, Italy, Poland and the United Kingdom.
Head Coach Daniel Szatkowski
Daniel moved to London in 2007 after playing professionally in Poland for the Division 1 team Spojnia Stargard Szczecinski. He has represented London basketball teams ranging from EBL Div3 to BBL. Currently, Daniel holds a UKCC Level 4 Coaching Certificate, and the roles of Director, and Head Coach for London Elite.
Mobile:
074.5331.4867‬
Email: 
[email protected]
U14 Coach Miguel McKelvey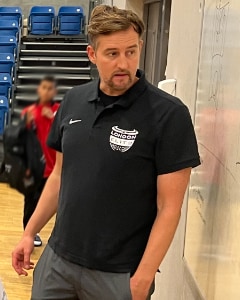 Miguel McKelvey will be the Head Coach for the London Elite U14 Boys Team which will compete in the Premier Division of the National Basketball League in the 2023/24 season. Miguel was assistant coach during the 2022/23 season, and brings a wealth of basketball knowledge to London Elite, having played played on the NCAA Division 1 team Oregon Ducks during his college years.
U16 Coach Mauro Salvatore Di Nunzio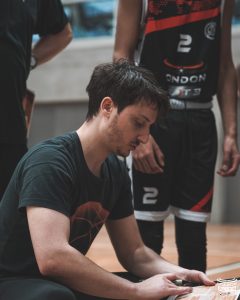 Mauro started his career as basketball coach very young, at 18 years old, in Italy as First Assistant Coach/Video Analyst in Italy of the Men's and Youth Programme. The Men's team, Virtus Pozzuoli, competed in the Italian 3rd Division reaching the finals in the first year.
His journey continued in London for a Master's degree and he continued coaching his Alma Mater, University of Westminster, as Head Coach of the 2nd team and as Assistant Coach of the First t
Team. In the first year, Mauro led the Second Team to promotion in the BUCS League.
Mauro has also helped as an assistant coach of the Basketball England Aspire programme for the London Region, where he won the Aspire Programme Tournament with the U13 Boys.
As London Elite Coach he is leading the U16 team in the EYBL: European Youth Basketball League and competed and won the Basketball England Conference League.
Mobile: 074.2478.9352
Email: [email protected]
U18 Coach Kieran Matthews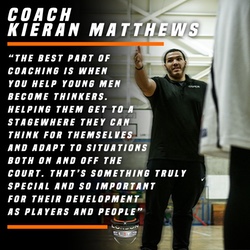 Coach Kieran played professionally at a young age, and started coaching young as well. Bringing ten years of elite athlete development, Kieran is one of the top youth development coaches in the country with multiple playoff appearances, championships and NCAA products.
Boasting a masters in international sports management, a certification as a strength and conditioning, and nutrition coach, Kieran offers a wide range of expertise.
Being a dual sport athlete, Kieran has NCAA/ equivalent experience in both basketball and American football. Very few understand the American sports system as well as Kieran and he is well connected in the world of sport both domestically and internationally.
Mobile: 074.3211.3533
Email: [email protected]