Head Coach Daniel Szatkowski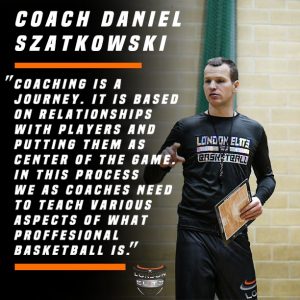 Daniel moved to London in 2007 after playing professionally in Poland for the Division 1 team Spojnia Stargard Szczecinski. He has represented London basketball teams ranging from EBL Div3 to BBL. Currently, Daniel holds a UKCC Level 4 Coaching Certificate, and the roles of Director, and Head Coach for London Elite.
Teams: Division 3 Mens, U20 EYBL, ABL U19, Elite U12
Mobile: 07453 314867‬
Email: 
[email protected]
Coach Kieran Matthews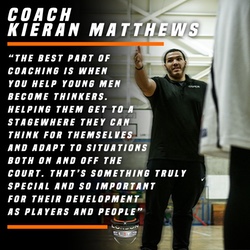 Coach Kieran played in his career for Camden Panthers, Hertfordshire Warriors, London Paws. Kieran started coaching at early age and despite still young age he has good experience with working with elite players.
Last few years Coach Kieran spent at Oaklands being Head coach for U14 and u16 reaching playoffs at National League level. He currently works with coach Daniel at Capital City Academy.
His knowledge and experience will benefit our U18 as we are proud to see Coach Kieran taking Head Coach for London Elite U18!
Teams: ABL Capital City, London Elite U18, EYBL U17, Assistant Coach for Division 3
Mobile: 07432 113533
Email: [email protected]
Coach William Twigg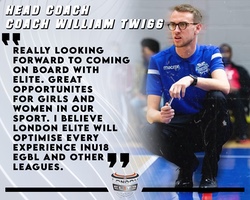 Coach Twigg started his coaching journey very early and learn basics of coaching as whe worked with regional nad national teams. He worked at Oaklands Wolves where he found true succes in winning girls U14 Final Fours, while being assistan coach at WBBL side.
Coach Tigg completed foundation level degree of Sports Studies. He also worked in the States for prestigious basketball camp, Snow Valley run by Don Shawwater (Director of Coach development of the USA youth basketball).
Teams: London Elite Girls U18
Contact Info:
Mobile: 07876 874191
Coach Mauro Salvatore Di Nunzio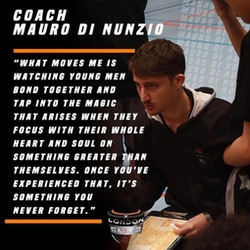 Mauro started his career as basketball coach at 18 years old in Italy. Was the assistant coach of the Virtus Pozzuoli of the Senior Team and youth programme competing in the Italian Serie C Gold. In his first year as assistant, he helped his team to get to the finals of the tournament. His journey continued in London for a Master's degree and he continued coaching for two years as head coach of the 2nd team and the assistant coach of the first team of the University of Westminster leading the second team to a promotion in the BUCS league. Mauro is also an assistant coach of the Basketball England Aspire programme for the London Region U13 boys in which he led the team to win the regional championship tournament.
Teams: London Elite U16
Contact Info:
Mobile: 07424 789352
Coach Matt L Williams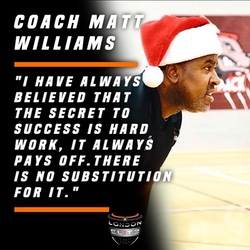 Coach Matt Williams has a good experience from playing basketball as he played at highest standard that UK basketball has had to offer through youth to semi professional and professional level. Once playing career was over Matt transfered to coaching and climbed from community level coaching, through CBL into National League. Coach Matt will be Head Coach for U14's in season 20/21
Teams: London Elite U14
Contact Info:
Mobile: 07961 606483
Email: [email protected]
Coach Afiz Olaniyan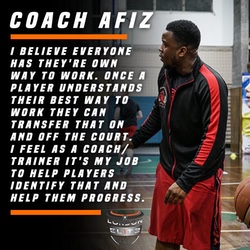 Coach Afiz Olaniyan is well know to all basketball players in London. Through his company Way2work, he has proven that he is one of most talented skill developing coaches in UK. Currently coach Afiz is the Head coach for our U12/U14 girls teams. Additionally Afiz helps with skills session across the club.
Teams: London Elite Girls U14, London Elite Girls U12
Contact Info:
Email: [email protected]