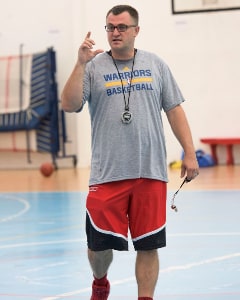 Coach Alek Blagoevski-Trazoff is our truly international basketball coach.
Alek played competitive youth basketball at the U14-18 for BC Rabotnicki in North Macedonia and the Macedonian Youth National Team. He started his coaching career in the mid-90s when he worked with both the Men's and Women's college teams for a Sports Olympiad Tournament for two years in a row.
As a youth coach, Alek has worked in the United States with a U12 boys' team, competing in a North Virginia basketball league; with a Varsity Girls Basketball team in an international school in Sao Paulo, Brazil; he also implemented a community basketball development program, held basketball clinics, day camps and skills improvement workshops there. He briefly coached a Boys Varsity Team in an international school in Bosnia and Herzegovina.
Coach Alek currently holds a license from Basketball England and has previously been licensed by the North Macedonian National Basketball Federation and USA Basketball. He also was certified by the National Federation of State High School Associations as a basketball coach. Last season Coach Alek came in at the start of the second half of the season and coached the London Elite U16 Boys with Coach Mauro. He helped the team win all the regular season games and win the promotion to the Premier Division.
Coach Alek is currently the Head Coach for the London Elite U14 Boys Team which will compete in the Premier Division of the National Basketball League in the 2022/23 season.
Mobile: 073.6896.5979
Email: [email protected]
Follow us on social media: