In an exhilarating season of hard work, dedication, and sheer talent, the London Elite Basketball Club has achieved a remarkable feat: promotion to the prestigious NBL Division 1. The club's success can be attributed to the exceptional efforts of last year's squad, whose relentless determination secured their place in the top division. As the club celebrates this historic milestone, it is worth acknowledging the positive impact this achievement will have on the community, as well as the promising opportunities it presents for aspiring young players and devoted fans.
The promotion of London Elite Basketball Club to NBL Division 1 signifies a new chapter in the club's history, one that promises exciting challenges and opportunities. This achievement will undoubtedly inspire young players throughout London and beyond, igniting their passion for basketball and encouraging them to dream big. Aspiring athletes will now have a club within their reach, a platform where they can showcase their skills and strive for greatness.
London Elite Basketball Club's promotion to NBL Division 1 is not only a cause for celebration within the club but also for the entire community. The success of the club will undoubtedly have a positive impact on the local area, fostering a sense of pride and unity. As the team competes against the country's finest basketball clubs, it will attract larger audiences, creating a vibrant atmosphere that will energize fans and inspire young spectators.
The competition organised by kit king and BE will be a good first test for our program as we dive into division one competition.
The competition will again be organised by NBL1 Men's clubs in partnership with naming rights holder Kitking.co.uk and BE.
It will see all 14 NBL1 clubs, plus a pair of invited Division Two sides, competing in four regional groups of four. Our first team will face Thames Valley Cavalier, Hemel Storm (last year winner) and Essex Rebels. Tickets will be available soon.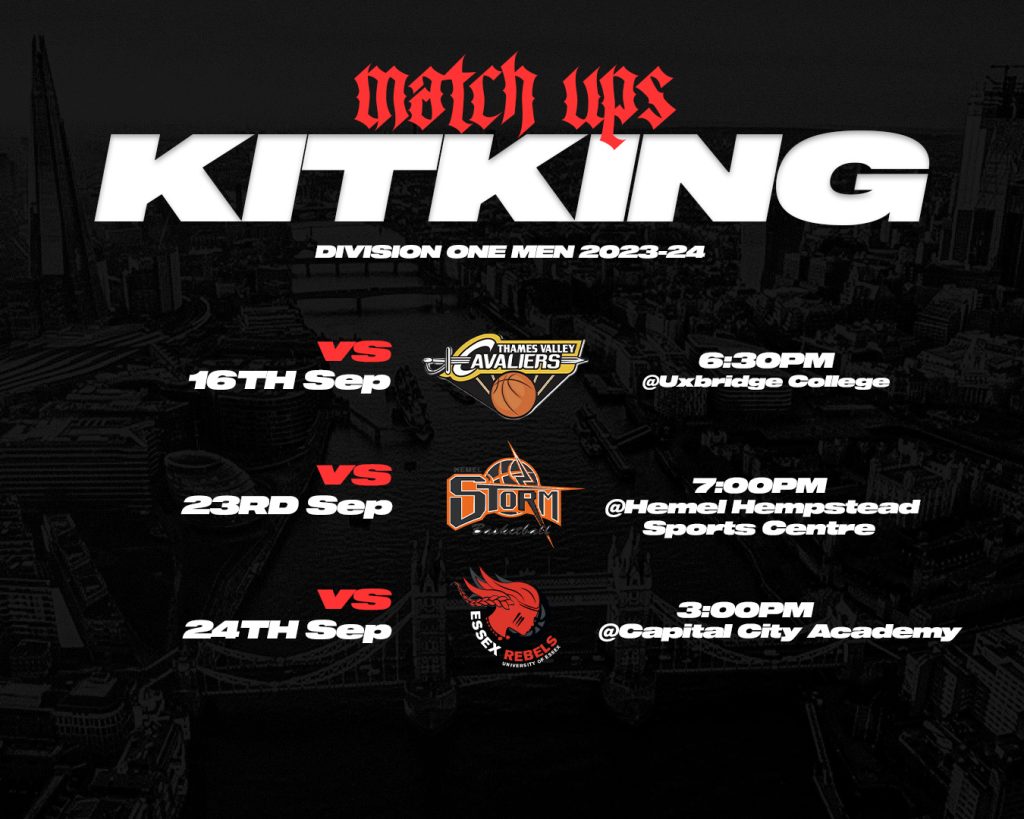 Tim Brown, former BE Board member and chair of the Men's Division One group, said:
"I would like to thank KitKing.co.uk for their ongoing support as we push the competition from strength-to-strength.
"The D1 men's clubs are continuing to grow and move the league forward as a group with Basketball England's support, making this an exciting time for both the sport and the Trophy itself."
The promotion of London Elite Basketball Club to NBL Division 1 is a momentous achievement that deserves to be celebrated. The success of last year's squad has laid a solid foundation for the club's future, raising aspirations and providing exciting opportunities for young players and fans alike. As the club embarks on its journey in the top division, we eagerly anticipate the thrilling challenges that lie ahead while recognizing the positive impact it will have on the community. The London Elite Basketball Club has truly become a symbol of excellence, unity, and inspiration for basketball enthusiasts everywhere.
With season coming soon, we will be announcing coaching staff, new signing and sponsors through out month of August. Look out this space for amazing news about your Division 1 team.