"It could not be otherwise" .."
"We couldn't see any other way forward"
This coudln't happen to a more deserving guy"
Odaine "Mr Everything" Beckford has landed full sports scholarship to Panther Hoops Basketball located in Western Vancouver, Canada. Odaine with his new program will play in majority USA tournament. Panthers will play in approximately 65-80 games from August to April. They will play in two circuits The National Platinum Circuit and the Academy West Circuit in the US. Along with this they will also play US Junior Colleges and other major tournaments.
This does not come as any surprise. Odaine was one of most entertaining players that came through our program. Not only his defensive skills were impressive but ability to dunk in different ways made him player bringing crowd off their seats at Capital City Academy.
His arrival in summer 2020 changed dynamics of our Elite U18 team. With Odaines positive influence boys swept all competitions in London being crowned champions of Revolution Basketball League and Community Basketball League. Despite being younger, Odaine never backed down and in many games led our squad to victories.
Coach Kieran Matthews said: "Odaine is a great player and even better leader and player. I'm really proud of him and how much he's developed over the year. He has such a high sealing and I think panther hoops will be a great fit for him, the opportunity to play in high profile events and with a very promising staff and group of players will no doubt aid Odaine's development into a great player. We'll be watching closely and supporting him over the upcoming years"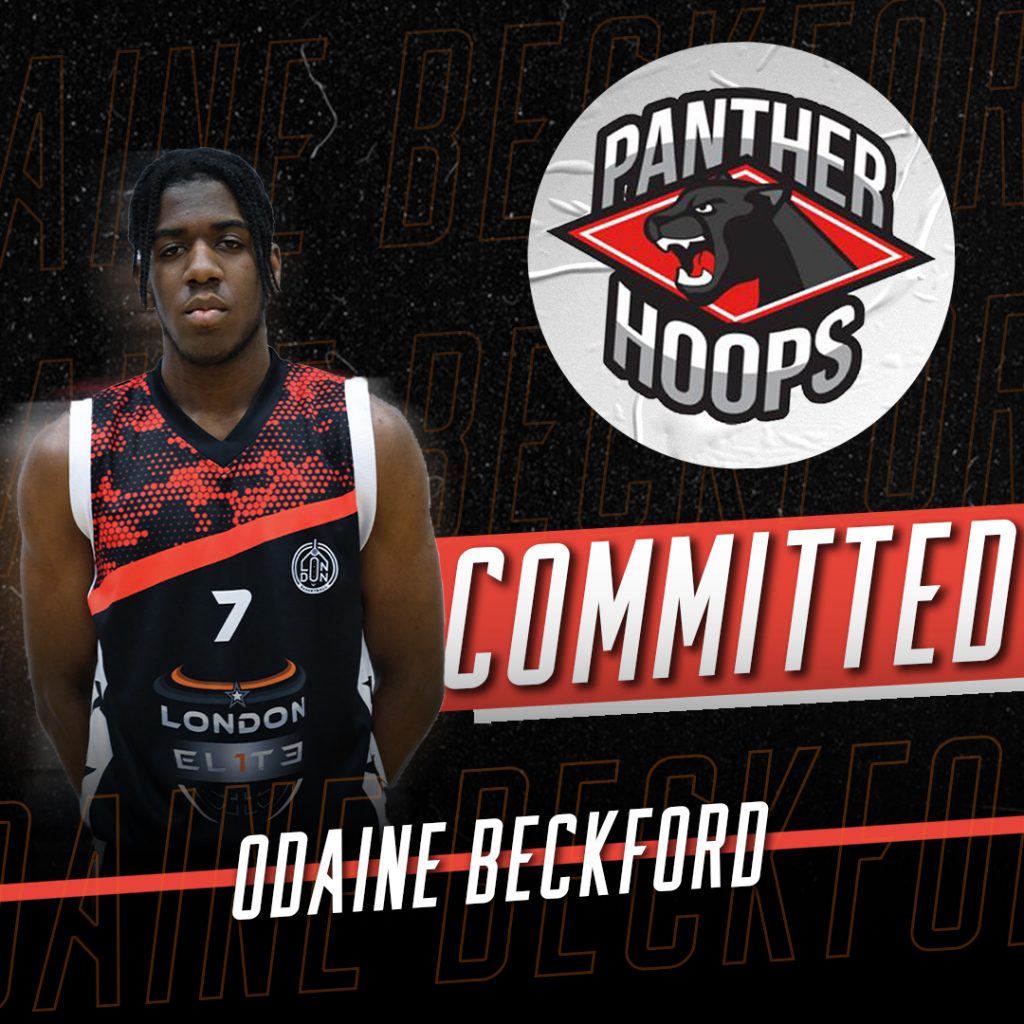 We had a chance to sit with Odaine and ask him couple question.
What made you join London Elite program?
-I joined Elite because I saw an opportunity to create something never seen before, a newly founded programme with unmatched potential and skill that could take the country by force and shock the ball community.
2. What did you learn while being with Elite?
-I learnt the importance of situational circumstances such as late game situations, I solidified my reading and reacting ability which was well helped by the way we communicated as a team, team bonding was key in our success. My shot was a weak part at the start of the season, but I got it down and ended the season able to shoot the ball well enough to go to the next level thanks to the early morning sessions with continuous reps.
3. What else impressed you during your stay?
Elite put me on a platform with Nationwide competition which allowed me to thrive and show my ability to everyone else. Although coronavirus held us back, Elite was still able to give me a stage to shine on and get global recognition.
The camaraderie at Elite is unlike any other school I had came across before, there is a sense of brotherhood and welcoming love on court, off court and in the classroom; where we all pushed and helped each other reach our goals as well as being pushed by our coaches.
4. If you could recommend anyone our program, what would you say?
-Elites best thing is utilising everything around them to make you succeed and that's what got me to where I am now. Although we did win 2 minor championships, rather than any big time championships such as the National League, Elite still succeeded in all aspects of competition and allowed me to prove a point to the nation. The CBL allowed elite to thrive with me and my peers and rebranded itself into a league which could possibly open its horizons even further, as we succeeded they did, as well as the newly begun RBL which got the programme and me myself to where we are to prove our worth.
We would like to say one and massive Thank you Odaine , for helping us lift first championship as club, for becoming one of our family members, for all effort put into our program, for trust placed in the club, passion and thrive to achieve the impossible, and example you imprinted in us by your hard work , perseverance in challanges which lead you in achieving this goal. We will be actively looking out for your progress Mr.Evertyhing.
Elite pathway always was and will be established on developing every player to reach their true potential , create right and individual platform for them to shine and show their true potential not in short perspective but in further career. . We lay the foundations for every player to progress with individual training programme, outlining areas of improvement and searching for future career opportunities within Europe and US programmes. We aim to find the right basketball and educational programme, which will tick all the boxes. At the same time its important to negotiate the right amount scholarship to cover daily needs of a student/ player. Elite works with only with reputable Basketball programmes and Universities.
Follow us on social media: