Not many people would believe after only the first-ever season in Premier competition, London Elite would break into the most prestigious junior competition in UK. Joining well-established basketball programs seemed like an impossible goal to have.
Hundreds hours of training, countless miles to the away games, tones of emotions, dozens of won games and our dream has come true. Our talented U14 and U18 squads have booked a place at a highly anticipated event in Manchester.
U18's
Our oldest junior team went through really competitive Playoff rounds before reaching semi-final match-up vs London rivals CoLA. In the first round of the playoffs, our home venue Capital City was visited by Manchester Giants team which provided a tough match up for our boys. U18's closed the game in great fashion and secured a quarter-final game vs Myerscough.
North England based squad is part of EABL academy and has plenty of talented players. Our quarterfinal game went back and forth with no side taking clear lead and overtime was needed to see any side claiming the win. Our u18's supported by 200+ spectators achieved the unbelieve goal of winning a game by only 2 points behind perfectly executed play at the end of the game. A great pass by Omon Arifkhanov set Hunter Kelleher for an open 3. Hunter did not hesitate and Hunter did not let his team down. Perfect 3-point shot will be forever key highlight for our U18 campaign. The final fours ticket was booked in heroic circumstances.
Semifinal match-up saw our U18 squad face South London Rivals, City of London Academy. In a low scoring affair, it was our team that held nerves and claimed an important win which meant that Grand Final against Manchester Magic was set. With over 1000 spectators watching this clash live, it was obvious it is one of the most electric clashes possible. Top players, programs and coaches on display. Game started in our favour however hot handed host came back and controlled the game within 10 point lead though out 2nd and 3rd quarter however our London boys never gave up and fought bravely back bringing the game to 3 points difference with 3 mins on the clock. Despite a great fight, it was North England side that sealed the game and claimed the championship on that fantastic night in Manchester.
Our U18's squad in first-ever Juniors Final Fours has claimed 2nd place. This was added on top of U18 National Cup won In January.  Head Coach Kieran Matthews said: " Such a fantastic journey did not finish the way we wanted. However the final game was a testimony of what London Elite club has become. Even though we did not win the championship, our boys won National Cup and were Runner up in National League. They made the whole club proud.
Before the season started last August 2022, it was hard to imagine we would be one of the four top teams in the United Kingdom by April 2023. Big congratulations to Hunter Kelleher for being named as an All Star 5 for the whole Final Four tournament!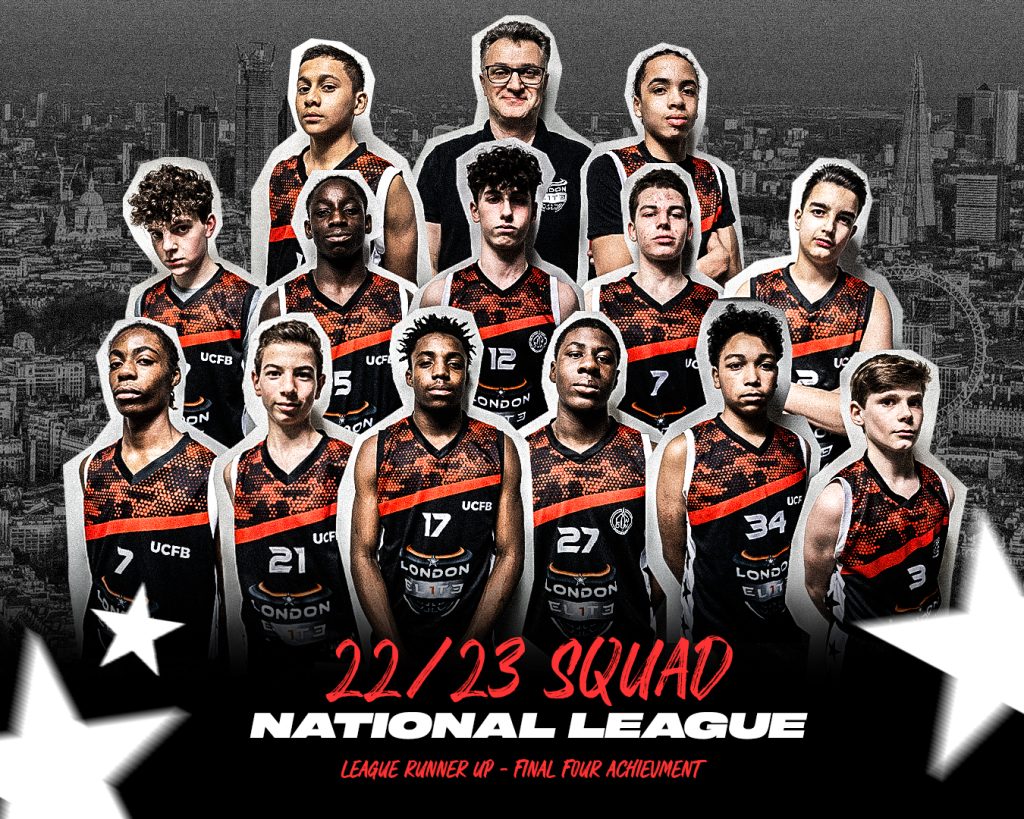 U14 Head Coach Alek Blagoevski-Trazoff "Our U14 team had just gotten promoted from the Conference to the Premier Division in the summer of 2022 when I took over the reins. We were a part of the most competitive conference (SouthWest) and had the last year's champions to compete with. However, we started the pre-season preparations ahead of time and we set the bar high in terms of the process goals we wanted to achieve. We also had a very talented group of kids to begin with, including U14 England national team member Kaya Birsen and Aspire program members Daniel Olusanya, Quentin McKelvey and Nicholas Ferrari."
The team was fortunate to have an Aspire program member, a fantastic leader, Mamba mentality and your next CEO Ata Charles Refiogly join in the off-season, which was one of the critical pieces for our success. At that time, we formed the base of success for the next year, including internationals Alexander Milovidov and Omer Zardok Shemer. We were very fortunate to add key pieces later on during the season, including Berkay Adala and Niko Sagiryan. By the end of the season, I was referring to this team as the "UN team", given that we had so many different nationalities on the team – players, parents and coaches.
The season was fairly long and gruelling. We faced many challenges. Our conference did have some of the best players and coaches in the country, and they stepped up to the challenge as well. We had one overtime, one double overtime game, and one game where the refs left the game – all of them away!!! Particularly at the end of the season, we had several setbacks with injuries to key players and emotional rollercoaster games, which all took a toll on the team.
Frankly – all of those challenges made us come together as a family and a community and made the trip to the Junior Final Foul (JFF) a very much deserved reward for all the sacrifices and hard work.
This success would not have been possible without the generous support from the club, all the parents and players. In particular:
— Club Director and JFF Assistant Coach – Daniel Szatkowski — thank you for the amazing opportunity to be the Head Coach this year!
— my assistant coach Miguel McKelvey — thank you for disagreeing with me so often. It made me a much better coach! You know I appreciated it then and will forever remember them. I am sure there were many other ways in which you supported the club, for which I am also very grateful!
— Onur Birsen — parent, recruiter and website master extraordinaire — your overall efforts with recruitment and thoughtful comments on strategy were an indispensable part of the success!
— Charlie and Kate Addison – all the video and statistical analysis made the coaching work so much more focused!
— Nadia Refioglu – for trusting me as a coach and supporting Ata so much, including driving an untold number of miles and being stuck in traffic in the last 8 months…
"Even though we ended the season in fourth place in the JFF after losses in two very close games, this season has been nothing short of phenomenal, given this was the London Elite U14 Boys Premier first time competing at this level. Almost half the team who went to the event this year is coming back next year, and they experienced the incredible intensity and energy in Manchester! They all know the amount of work and dedication required to succeed at the highest level."
"With an amazing selection of new talented kids who have already indicated they are joining the team and a great new Head Coach, I have no doubt they will be very competitive next season as well. I am certain the team will be back even stronger and better prepared for a Junior Final Four run in April 2024. Watch this space…"
Big congratulations to Daniel Olusanya for making tournament All Star 5!

As they say in the Foreign Service – this is not a goodbye, but a "see you soon"…
Follow us on social media: