Regardless of current lockdown situation, our club has not ceased working. Our director Daniel Szatkowski is fully focused on improving structures of the club to be 100% ready for day 1 of returning to our biggest passion, which is playing and training basketball everyday.
As first season proved we have unbelievable squad of coaches and supporters, we understood that certain parts of players development were reaching beyond their even advanced knowledge. This led the club into introducing Adam Bourjij to our London Elite team, who will be responsible for injury prevention and treatment. Adam will work on overall understanding of joint movement as he is fully qualified as Osteopath.
Coach Daniel said:" To have Adam with us is truly a blessing. His knowledge and experience is greatly recognisable and I am more then convinced that he will bring additional quality in development for our players. It is another sign London Elite is absolutely focusing on development and investing in better quality of service"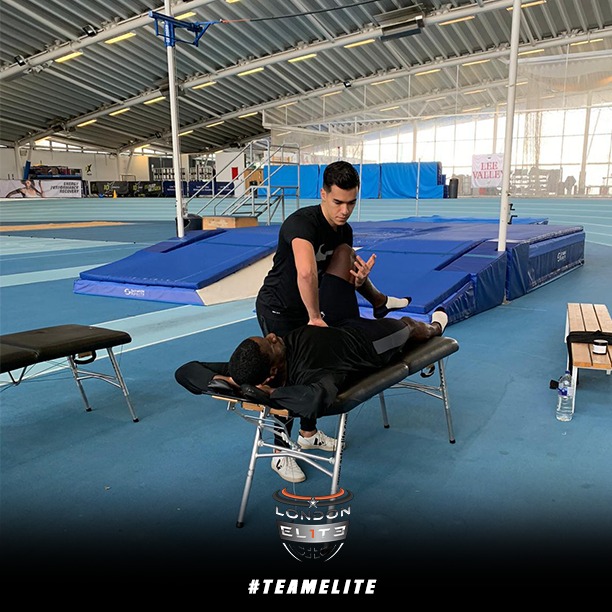 This is what Adam said:"It's a true pleasure to officially join London Elite. My previous great professional experience with Daniel convinced me when I was making my decision and I am really excited to be part of this project and helping club growing in an optimal environment. As an Osteopath, the key is in prevention of injuries, which is true for players but also for everyone in general"
"By having a fair postural assessment, examining key areas of the body, you will be able to tailor the most suitable treatment and program to stay healthy whether you need to get ready for the games ahead or facing daily challenges!" Aam continues.
Adam will work from season 2020/21 however he is happy to help during lockdown with great workouts which will be posted on our social media.He collected amazing experience while working with London Wasp Rugby club and with some Olympian sprinters through Speedworks program.
Head to Instagram and Facebook tomorrow for his first injury prevention. We believe he will truly improve preparation of our players and we are excited to see what Adam can bring into our Elite family!
Follow us on social media: